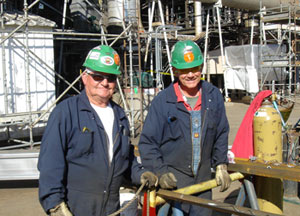 Our superintendents have over 80 years of combined service in the Industrial Construction field. Our commitment is to safety and quality workmanship and to complete the work within budget and the allotted time.
The WESCO Environmental, Inc. Management Team:
William (Billy) Lewis is the president and owner of WESCO Environmental, Inc.. Billy has over 20 years of experience in the construction field. He has worked on many projects as hand, supervisor and project manager. He oversees the day to day operations of WEI and works directly with clients. Billy also focuses on safety and leads safety discussions and meetings with supervisors and employees.
Corinne Lewis is the Vice President and Office Manager of W.E.I. Environment, Inc. She handles all Human Resource issues, Payroll and Accounting for the company.
Sabin Smith is our Superintendent and Inspector and has been with W.E.I. since our beginning. He always gets the job done safely, efficiently and on time. Sabin has over 30 years of experience in this industry. Specializing in precipitators, he has been on many projects all over the country. Sabin also takes on safety responsibilities such as training and leading safety meetings. He is a great asset to our company.
Mike Lewis a field superintendent with over 25 years of experience in the Construction Industry. He has specialized training in the millwright field and boilermaker field as well as structural fitting and welding. Mike also does safety training for employees.
Pat Lewis is a field Superintendent and Inspector He has over 20 years of experience in the field. He is well trained in structural welding and fitting and has specialized experience in precipitators, as well as scr units and scrubbers. He has managed many projects for other companies in addition to W.E.I. Pat is a safety trainer like all of the leaders on our team.
Our supervisors, as well as our employees, are stationed throughout the United States, reducing the costs for our customers as well saving time in emergency cases.